Advice and support to choose the best industrial equipment to fulfill your production needs.

Equipment Installation Services


Complete systems and machines for shot-blasting and shot-peening to clean, descale, strengthen (peen) or aesthetically finish metal in many different fields.
Overhead conveyor blast machines
Tumble belt blast machines
Rotary table blast machines
Belt conveyor blast machines
Roller conveyor blast machines
Compressed air sandblasters
Special Systems
Conveyors manufacture & design: twin rail, single rail and special products for overhead conveyors. Our conveyors are designed for the automated transport of any product type and are suitable for assembly lines, dynamic storage facilities, powder paint, immersion paint and enamel production lines.
Main advantages:
Easy assembly and disassembly

Maximum flexibility, allowing for the creation of transport lines of varying configurations

High quality production and assembly of each individual component

Exceptional durability and reliability

Minimum maintenance required
Handling solutions for loads in the manufacturing industry. Zero gravity manipulation solutions for every kinds of industries. Our manipulators are customized according to production's needs, ligth and ergonomic, with the ideal gripper according to the material: Gripping with suction cups, Hooks, Handling bags with suction pads, Gripping system with magnet, Gripping with clamps.
Industrial water washing systems combine the water properties, technology, the cleaning solution as well as the time required for a complete cycle.
According to production needs, customized solutions are studied, with maximum energy optimization focus, reuse of water, time and costs savings, to ensure efficiency and productivity improvement. We have a wide range of industrial washing systems and we advise each client not only on the most suitable washing cycle, but also on the correct process to gain the best expected result. Each client has his own procedure that requires an ad-hoc solution, so we offer the acurate process with the correct decontaminant; alcohol, water or solvent.
Customized painting systems. Complete plants for all surface finishing technologies, such as: liquid paints (water or solvent based), applied by spray methods, by immersion, by flow coating, by electrodepositing (anodic or cathodic), to cover the protection and finishing of any type of surface, either in metal or in plastic.
Designing and manufacturing special and custom gearboxes:
– 100% fabricated with European materials
– Exceptional stress resistance and smooth transmission of torque for the most efficient
service under extreme operating conditions.
– On-site process analysis to improve production throughput.
Industries: CEMENT – STEEL & METAL – SUGAR – MINING – RUBBER & PLASTIC – CRANES – MARINE
OIL & GAS – POWER GENERATION.
SRI offers a spare parts service, qualified technical assistance and Customer support.
In SRI you can find especialized equipment for foundry processes such as mixers, moulding, sand preparation and distribution system, sand reclamation, melting furnace for cast iron, cores, core shooters, decoring machines, pre-finishing machinery and more.
Design and manufacturing of heat treatment lines in the metallurgical field.
Our products are used by the mechanical sectors whose production includes steel alloys, light alloys, super alloys and cast iron pieces, achieved by casting, forging or different production cycles that require a specific heat treatment. We offer heat treatment solutions for steel or aluminum, able to perform:
Hardening and tempering
Normalization
Tempering
Stress-relieving
Aging for light alloys (natural, artificial)
Heating for steel hot pressing
Cryogenic treatments down to -120°C
Specific treatments on request of the customer.
The range of heating temperatures of furnaces goes from 100°C up to 1,300°C.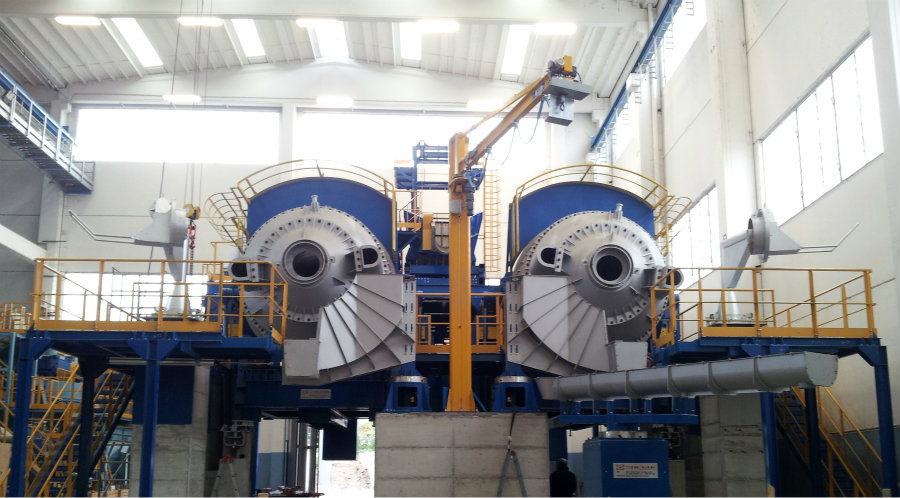 Industrial solutions for leaktesting control using measure systems by masospectrometry with helium or other gases. Useful for many manufacturing sectors, including: refrigeration and conditioning, air treatment, automotive, packaging, chemical, pharmaceutical, electromedical, aerospace, mechanical and electronic.
Leaktesting machines and installation.
Preparation and recovery test gas systems.
Contact us for more information